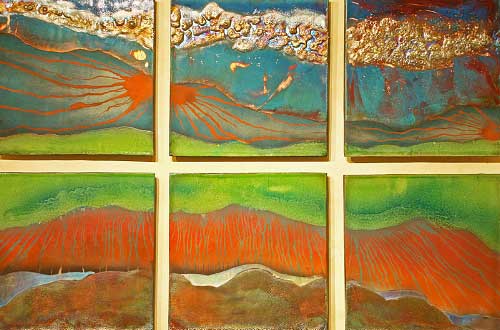 online store
Red Rain
33"L x 23"H
Raku pottery with a view! This lively wall hanging was inspired by the immense view of the Blue Ridge Mountains from my home in Weaverville. The raku tiles for this piece are individually cut 12" square from 3/8" thick slabs of clay. After drying, they are bisque fired standing upright in the kiln. Then I lay them out in the desired size and shape, and draw the pattern on them with a pencil. Using the pattern as a guide, I then apply underglazes and glazes in the desired areas. Each raku tile is created from proprietary glazes that I make.
They are then fired 3 at a time in the raku kiln. For hanging, 4 loop tabs are chemically bonded to the back of each tile. After the bond cures, a wire is threaded through the tabs and secured, so the top of the wire on all of the tiles is 1 1/8" from the top edge when stretched tight. Then I hang the raku pottery using 10 pound picture hooks. When in I get the spacing correct, I take the tiles down and make a template for the potential customer to use when hanging in their space.
if you would like more information please contact me.
This ceramic wall hanging was created using the raku process. To learn more about my raku pottery and how my wall pieces are created, please visit my raku firing page. To contact me or to sign up for news & information regarding my exhibitions or monthly discounted raku pottery for sale please click here.